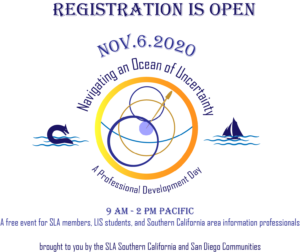 Please join SLA's Southern California and San Diego Communities in an interactive day of professional development and online community. This event is free and open to SLA members, all LIS students, and Southern California area information professionals.
Bring a friend, make a friend, and join our community as we navigate these times together.
*And enjoy lunch on us! The first 30 SLA members to register will receive $20 towards a meal-delivery service.
Soutron Global will be sponsoring some gifts and giveaways so be sure to join us!
Event Timing:
Friday, November 6th, 2020
9 am – 2 pm Pacific Time
Event Details:
This event will take place on the Remo platform, which is designed to facilitate small group conversations and networking. A link to access the event will be sent to registrants a few days prior to the event date.
A detailed schedule is still being finalized, and will look something like this:
8:30 – 9:00 am Social/Tech Time: Arrive early to get set up and familiarize yourself with the platform
9:00 – 10:00 am Opening & Current Events: Guided discussion around current events in our society
10:00 – 11:00 am Panel Conversation for Students: Gaining skills and finding a job in today's environment
11:00 – 12:00 pm Chat & Chew: A fun lunchtime game time
12:00 – 1:00 pm Lightning Talks: Learn about software tools that can make your life easier
1:00 – 2:00 pm SLA Conference Recap: A guided discussion about the SLA Annual Conference (thoughts, opinions, closing perspectives)
We hope you enjoyed the Event.