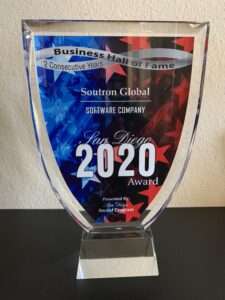 San Diego, Calif – International library transformation company Soutron Global is honored to receive the 2020 San Diego Award in the Software Company category by the San Diego Award Program.
"At Soutron Global, we strive to improve the lives of our clients by making their day-to-day work simpler and special projects more achievable," says Soutron Global CEO Tony Saadat. He continues, "Our staff work diligently to provide the best support possible for our clients and we want to thank everyone who nominated us and spoke on our behalf."
Soutron Global continues to innovate by providing community-oriented programs such as our Covid-19 Support program.  These programs help us to support not only our local community but also give back to the wider knowledge services community.
You can read the full Press Release Here.
You can also read the Press Release on Marshall Breeding's Library Technology Guides.
About the San Diego Award Program
The San Diego Award Program is an annual awards program honoring the achievements and accomplishments of local businesses throughout the San Diego area. Recognition is given to those companies that have shown the ability to use their best practices and implemented programs to generate competitive advantages and long-term value.

The San Diego Award Program was established to recognize the best of local businesses in our community. Our organization works exclusively with local business owners, trade groups, professional associations and other business advertising and marketing groups. Our mission is to recognize the small business community's contributions to the U.S. economy.